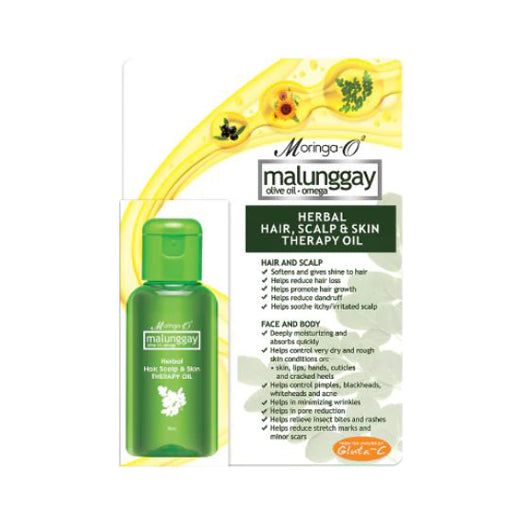 Moringa-02 Malunggay Herbal Hair Scalp and Skin Therapy Oil 30mL
Regular price
₱115.00
-Liquid error (snippets/product-template line 133): Computation results in '-Infinity'%
SKU: 4806509662215
Seller Guarantees:
On-Time Delivery
Within 1-3 Days
- Moringa-O2 Herbal Hair, Scalp, and Skin Therapy Oil is a rare blend of oils from moringa (Malunggay), olive, and omega (sunflower) oils.
- These three powerful oils are very rich in antioxidants, vitamins, and minerals.
- They are natural cleansers, have high emollient properties, and are all naturally antiseptic, anti-bacterial, and anti-inflammatory.
- Together, they cover a wide spectrum of benefits rooted in nature providing a healthier, gentler, and more skin-hair-scalp-compatible from babies to more mature individuals.
- Hair and Scalp:
- Scalp care is the basis of healthy, strong, and thick hair. The many vitamins and minerals: Vitamins A, B Complex, C, E, Squalene, and anti-oxidants of Moringa-O2 give a healthy and moisturized scalp.
- It helps minimize dandruff, and falling hair; reduces brittle hair, and promotes hair growth.
-Skin:
- Moringa-O2's Oil is deep cleansing yet it lubricates and protects, smoothens, and boosts radiance, minimizes wrinkles.
- Its antiseptic and anti-inflammatory properties help address minor skin complaints such as cuts, bruises, burns, insect bites, and rashes.
- It also helps minimize pimples, acne, blackheads, and whiteheads and minimizes pores. It helps relieve irritated and itchy skin and it is light and spreads easily.
Other Customers also buy
Translation missing: en.products.product.regular_price

₱250.00

Translation missing: en.products.product.regular_price

₱215.00

Translation missing: en.products.product.regular_price

₱325.00